M62 hard shoulder plans delayed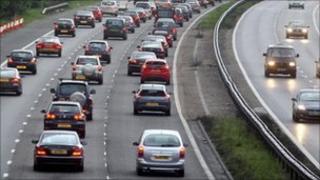 Plans to cut congestion by allowing traffic on the hard shoulder of the M62 in West Yorkshire have been delayed.
Construction work on the scheme, between junction 25 for Brighouse and junction 30 for Rothwell, was due to start in October.
The plan was part of the Labour government's £6bn Managed Motorways project to improve national roads.
The Highways Agency said the scheme had been delayed until the new government's spending review was complete.
The agency said the Department for Transport would not be in a position to identify projects it could support until the results of the spending review were announced.
CCTV monitoring
A spokesman said: "In view of the uncertainty over the availability of funding for this scheme, ministers have taken the decision to delay the start of the works."
He said further announcements about the scheme would be made later in the year, once the review was complete.
When plans to use the hard shoulder were announced last year, some groups expressed fears about the emergency services being able to get through.
The Highways Agency said the move would make journey times more reliable and reduce congestion.
It said staff monitoring the motorway on CCTV would be able to close lanes if a problem was spotted or the emergency services needed to get through.
The plans include lay-bys that would be spaced along the road in case of vehicle breakdown.