Eight men in hospital after stag party M1 minibus crash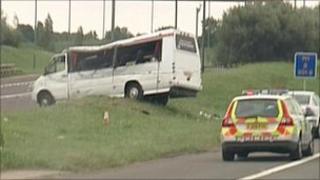 Eight men remain in hospital after their minibus crashed as they returned from a stag party.
The minibus driver and 11 other men were taken to hospital in Leeds and Wakefield after the vehicle overturned on an embankment on the M1 on Sunday.
West Yorkshire Police said eight of the men, who are all from the Manchester area, were still in hospital. The other four have been released.
Officers said no other vehicles were involved in the crash.
Two of the casualties were originally said to be in a critical condition, five had serious injuries and five had minor injuries.
Police said none of the men's injuries were now thought to be life-threatening. They are aged from 28 to 68.
The force is appealing for anyone who saw the minibus before the crash to come forward.