'Shannon' estate to receive £1m lottery cash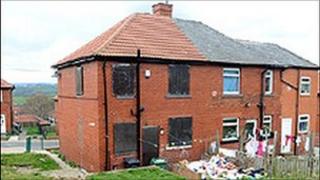 West Yorkshire's Dewsbury Moor council estate is to receive £1m to help turn it into a better place to live.
The area became well-known after schoolgirl Shannon Matthews disappeared from her home there in February 2008.
The youngster, then aged nine, was found 24 days later and her mother Karen was jailed for kidnapping.
At least £1m of lottery cash will be pumped into the estate over the next 10 years with the aim of improving facilities and residents' skills.
The Warwick Estate in Knottingley will also receive a similar amount from the programme, which is being launched by the Big Lottery Fund but will eventually be run by a standalone trust.
Residents will be asked to decide what improvements their area needs before making their own applications for funding from the trust.
Chief Executive Peter Wanless said: "The Big Local Trust funding stream will help local people identify their pressing issues and develop the skills and confidence necessary to start changing things in their community for the better."