Bradford woman 'killed by crossbow bolt and knife'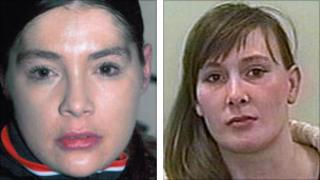 One of three women who were killed in Bradford died from severe head injuries caused by the bolt from a crossbow, an inquest has heard.
Suzanne Blamires was also injured with a knife, Bradford Coroner's Court was told.
Stephen Griffiths has been charged with murdering Ms Blamires, Shelley Armitage and Susan Rushworth, who all worked as prostitutes in Bradford.
The cause of Ms Armitage's death could not be established, the inquest heard.
Body parts belonging to Ms Blamires were found in the River Aire in Shipley on 25 May.
Coroner Roger Whittaker said a report from a post-mortem examination on Ms Blamires showed her cause of death was "severe injuries caused by a crossbow".
Remains released
The coroner heard how detectives established that Ms Armitage was dead even though they had only recovered a small piece of human tissue belonging to her.
Det Supt Sukhbir Singh told the inquest a small part of her spine was found in the same stretch of the river as where the remains of Ms Blamires were discovered.
Mr Singh said: "She would not have been alive with this piece of spine missing from her body."
Mr Whittaker told Mr Singh he was anxious to be informed if detectives found the remains of Ms Rushworth.
If her remains were not recovered he said he would apply to the Home Office to open an inquest without a body.
Mr Whittaker released the remains of Ms Blamires and Ms Armitage to their families for their funerals.
Mr Griffiths, 40, of Thornton Road, Bradford, is charged with murdering Ms Blamires, 36, between 20 May and 25 May; murdering Ms Rushworth, 43, between 22 June, 2009 and 25 May this year; and murdering Ms Armitage, 31, between 25 April and 25 May this year.
He has been remanded in custody and is next due to appear at Bradford Crown Court on 15 October.
The inquests were adjourned until a later date.