Bradford communities support Pakistani flood effort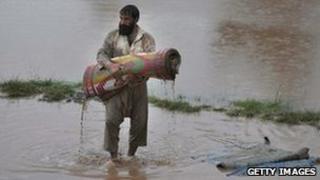 Communities in Bradford are pulling together to help the aid effort in flood-stricken Pakistan.
Aid charities said hundreds of people had been killed and many more left homeless in the region's worst flooding for 80 years.
Members of the Bradford Council For Mosques are meeting to discuss ways to support the relief effort.
Ishtiaq Ahmed, from the council, said many people in Bradford had relatives who had been affected by the disaster.
"Bradford has a very large Pakistani community and a significant percentage of people come from the areas affected," Mr Ahmed said.
"They have families and relatives there or properties there."
Aid agencies have said entire villages have been washed away in the floods.
Unicef said three million people had been affected and 1,400 had been killed.
Aid workers are having difficulties accessing some parts because bridges and roads have been destroyed or washed away by heavy rain.
Mr Ahmed said: "Bradford Council For Mosques is meeting tonight to discuss how best we can co-ordinate the relief effort in conjunction with charities.
"Bradford has always been very generous, it mobilised a significant amount of resources during the last earthquake in Pakistan. We are very sure that people will respond very positively again."