Report finds West Yorkshire has most cannabis factories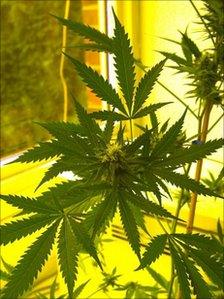 West Yorkshire has topped the list for the highest number of cannabis factories found in a police force area across the UK.
Between 2009/10, 896 cannabis "farms" were found in the region.
The figures were revealed in a report by the Association of Chief Police Officers (Acpo).
North Yorkshire Police recorded the highest rise in the number of cannabis factories while the number in South Yorkshire has fallen.
Across the UK, the study found the number of commercial cannabis factories found by police totalled 6,886 - more than double the 3,032 discovered two years ago.
Commander Allan Gibson, the Acpo lead on cannabis, said the findings came as no surprise and the rise was in part down to an increased focus on the issue by authorities.
Bryan Dent, drugs co-ordinator for West Yorkshire Police, said the force had "mounted a series of operations in order to make the county a hostile place for organised crime groups who are determined to use cannabis factories as a way of producing drugs and exploiting the vulnerable".
He added: "It is important to look at these statistics in context.
"West Yorkshire, along with other Metropolitan forces are amongst the largest police forces in the UK so the high numbers are not unexpected.
"We will continue to identify cannabis factories, close then down, and bring offenders before the courts."
Related Internet Links
The BBC is not responsible for the content of external sites.