EDL wants 'peaceful demonstration' in Bradford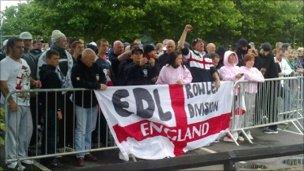 The English Defence League has said it wants a "peaceful demonstration" in Bradford later this month, as police seek a ban on all marches in the city.
West Yorkshire Police has applied for the ban on 28 August, the day of a planned protest by the group.
Unite Against Fascism (UAF) plans a protest on the same day, in response to the English Defence League (EDL) demo.
The application, which needs government approval, follows a campaign in the city to stop the EDL march.
Home Secretary Theresa May will be asked to authorise the ban, which is being submitted by Bradford Council in a written application.
It comes after West Yorkshire Police's chief constable Sir Norman Bettison wrote to the council requesting an order to prohibit any public processions over the August Bank Holiday weekend.
Sir Norman said he was taking the action after considering the "understandable concerns of the community".
He said a ban on marching would not stop either group holding a "static" protest.
Guramit Singh, of the EDL, told BBC Radio Leeds: "We don't want ugly scenes at all."
He added: "We are coming for a peaceful demonstration. We want to come to Bradford, we want to do our peaceful demonstration and leave, that's all we want to do."
Weyman Bennett, joint national secretary of Unite Against Fascism, said: "While we welcome the news that an English Defence League march looks unlikely to go ahead, the fact remains the EDL will be turning up for a static rally.
"On previous occasions the police have escorted the EDL to their rally, thus creating a de facto march, regardless of any ban."
The EDL has already held protests in Aylesbury, Dudley, Stoke-on-Trent, Newcastle, Bolton, Leeds and Luton.
A 10,000-signature petition opposing the EDL march was handed in to the Home Secretary Theresa May earlier this month after fears it could provoke a violent reaction to rival the riots which happened in Bradford nine years ago.
A Home Office spokesman said: "We will carefully consider any application to ban a march that comes forward from Bradford Council, balancing rights to protest against the need to ensure local communities and property are protected."
Related Internet Links
The BBC is not responsible for the content of external sites.