Static protests' sites confirmed in Bradford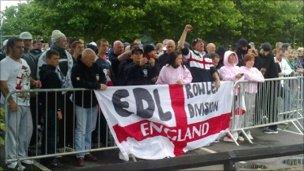 Locations for controversial static demonstrations in Bradford have been confirmed by West Yorkshire Police.
The English Defence League (EDL) and Unite Against Fascism had intended to demonstrate in the city on Saturday.
But Home Secretary Theresa May affirmed a blanket ban on marches in Bradford on the day of the planned protests.
The two groups are still expected to hold static demonstrations - EDL's at the Urban Gardens and Unite Against Fascism's at the Crown Court Plaza.
A community celebration event called Be Bradford - Peaceful Together is also due to be held at Infirmary Fields.
A police spokesman said: "There will be a significant, high-profile policing operation in place in order to ensure public safety.
"West Yorkshire Police's role is to facilitate peaceful protest. If anyone commits a criminal offence they will be dealt with fairly but firmly. The police will not tolerate damage to the city or acts of violence."
A 10,000-signature petition opposing the EDL march was handed to the Home Office earlier this month.
The home secretary was asked to authorise the ban by Bradford Council which submitted a written application.
It came after West Yorkshire Police's Chief Constable Sir Norman Bettison wrote to the council requesting an order to prohibit any public processions over the August Bank Holiday weekend.
Related Internet Links
The BBC is not responsible for the content of external sites.