First phase of Wakefield Merchant Gate scheme opens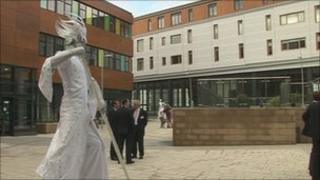 The first phase of a £140m development in Wakefield city centre is complete.
The Merchant Gate scheme is described by the city council as "one of the most important city centre development sites in the Yorkshire region".
It will eventually include office blocks, 350 homes, shops and restaurants, public squares, a hotel and a new railway station.
Phase one, which includes 66 flats, shops, offices and a 1,500-space car park, was unveiled on Friday.
Developer English Cities Fund (ECf) invited property and commercial agents and local dignitaries to the unveiling.
Sir Michael Lyons, ECf's chairman, said the development was "a very important part of the reshaping of Wakefield" and was "an opportunity for Wakefield to present itself to people who haven't currently invested here".
Local partnerships
Sir Michael admitted it may take time to fill all the commercial and residential space in the current economic climate.
He said: "When we agreed to start this scheme back in the autumn of 2008 banks were in crisis and other people weren't investing.
"It was the strength of local partnerships and ECf's long-term view that led us to have the confidence to get going.
"We are confident that as the economy improves Wakefield will be well positioned to take advantage of that."