West Yorkshire Police criticised over 'chaotic' shooting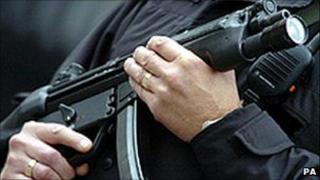 Armed police who shot an unarmed man during a "chaotic" operation at a house in West Yorkshire used "ill-considered" tactics, a report has said.
The Independent Police Complaints Commission (IPCC) said Bartholomew Buckley was lucky to have survived the shooting in Brighouse in January 2009.
The IPCC said there were "lessons to be learned" for West Yorkshire Police.
The force said officers had believed a woman's life was at risk after reports the man was armed with a samurai sword.
Buckley was shot once by a firearms officer sent to deal with a domestic disturbance in Whinney Hill Park, Brighouse, in the early hours of 9 January.
IPCC commissioner Nicholas Long said: "Police firearms officers operate in a highly pressurised environment and have to take split-second decisions which may result in the use of lethal force.
"They should be highly trained to deal with all eventualities and make rational decisions in dangerous situations.
"In this particular incident a number of factors came together and resulted in a near-fatal shooting."
He said that when the officers entered Buckley's house they were met with an aggressive individual.
"They shouted commands at him, but whether due to drunken bravado, anger at the situation or plain stupidity, he chose to confront the officers," Mr Long said.
"His actions appear to have taken the officers by surprise and this led to poor decision-making on their part. In my opinion what followed was chaotic.
"It is only due to luck that Mr Buckley was not killed in the incident. A firearms officer fired five rounds at him, but only struck with one.
"It is clear there is learning around training and command for West Yorkshire Police in relation to this incident."
'Screaming for help'
West Yorkshire Police said the force would consider the report's recommendations.
A statement said: "It is important that the report's findings are viewed in the context of what was a highly charged and fast-moving situation which began with a terrified woman calling the police for help saying she feared she was going to be killed by a man armed with a samurai sword.
"When officers arrived at the address, the lady was seen screaming for help and banging on an upstairs window and her life appeared to be in imminent danger.
"The action of West Yorkshire Police officers ensured the safety of the lady."
The force said most incidents involving armed officers ended without shots being fired.
"However, the public should not lose sight of the fact that if people choose to arm themselves or threaten the lives of others, then the police have a duty to act in the most proportionate manner, which may include lethal force," the statement concluded.
Buckley was convicted of affray and common assault in relation to the incident and was given a suspended 12-month prison sentence and a 12-month supervision order, the IPCC said.
The IPCC investigation concluded in January 2010 but could not be published until the conclusion of criminal proceedings against Buckley last week.