West Yorkshire saucy postcard centenary relaunch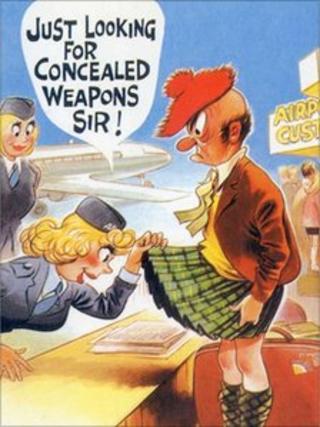 A series of world-famous saucy seaside postcard images is being relaunched to mark their 100th anniversary.
Businessman Ian Wallace, of West Yorkshire, bought the firm Bamforth & Co nine years ago and now owns the rights to about 50,000 of the images.
But he has waited until the centenary to sign a licensing agreement, which will take place later with the Jane Evans Licensing Consultancy.
James Bamforth began his business in Holmfirth in 1870.
Bamforth was a portrait photographer who later specialised in lantern slides.
However, in 1910 he published the first of the saucy postcards.
The classic cheeky cartoons could soon appear on everything from mouse mats to boxer shorts once the licensing agreement is signed later at the Brand Licensing Europe Exhibition, held at London's Olympia.
Mr Wallace said: "They always look good and they always make people smile.
"Maybe they're not to everyone's taste but if you can't laugh at Bamforth postcards what can you laugh at?
"They are classic images which have really stood the test of time."
Mr Wallace, who is originally from Huddersfield, said: "This company was making films before Hollywood and then they went onto produce these postcards, which are an institution.
"They sold millions and millions and millions of them. They were sold all around the world.
"I think this move will give them a new lease of life."
Bamforth & Co was bought by the Scarborough printing firm Dennis in the 1980s and Mr Wallace bought the rights in 2001, after this company collapsed.
Mr Wallace said: "All we're hearing about at the moment is cuts, cuts, cuts. It's good to have something we can all laugh about.
"People like a good laugh, particularly at times like this and I think we should laugh more. We know that aspects of the Bamforth range of daft, comic ideas will appeal to certain people in all countries."