Crews at pallet fire near Ferrybridge Power Station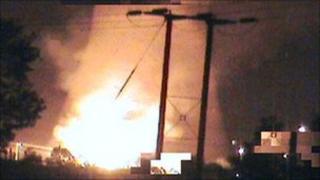 More than 50 firefighters have dealt with a large fire at a pallet yard near to a West Yorkshire power station.
Crews were called to the fire on Kirk Haw Lane near to Ferrybridge Power Station at about 1850 BST on Tuesday.
The fire service said 10 engines were called and the fire, which involved about half the pallets on the site, was under control within two hours.
A spokesman said the cause of the fire was not yet known and fire investigators were at the scene.