Menston homes plan sparks 1,000 objections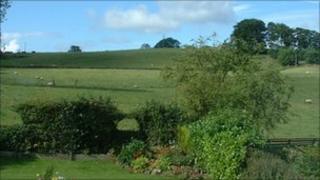 Villagers fighting plans for 300 homes in Menston have handed in 1,000 letters of objection to council planners.
Barratt Homes has submitted plans for 174 homes at Derry Hill, and Taylor Wimpey is expected to submit proposals soon for 125 houses at Bingley Road.
Both sites lie on former green belt land reallocated for housing by a government planning inspector in 2004.
Members of the Menston Action Group (MAG) delivered 1,000 objections to Bradford Council on Wednesday.
The campaigners walked from the city's Forster Square to the planning department at Jacob's Well.
'Destroying meadows'
MAG spokesman Graham Booth described the plans to build houses on sheep-grazing meadows at Derry Hill as "environmental vandalism".
"We do not want our green fields tearing up," he said.
"Preferably, houses could be built on brownfield sites before they start destroying meadows."
He said the homes were being planned "in the wrong place, at the wrong time, for the wrong reasons".
"We know the centre of Bradford is overcrowded," said Mr Booth.
"But building houses here where there are no jobs will just force people to travel further to work either by car or on a public transport network that can't cope."
Opponents of the Derry Hill plans have until 14 October to register their objections to the council.
A Bradford council spokesman said: "The application is at an early stage and we are currently in the consultation phase."