Fans' joy as Wakefield Wildcats' stadium plan approved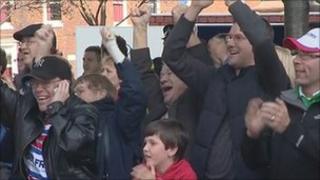 Plans for a new community stadium which will secure Wakefield Trinity Wildcats' future in the Super League have been unanimously approved.
Wakefield City Council gave the go-ahead for the development on green-belt land bordering Leeds and Wakefield, at a meeting on Friday.
Fans cheered outside Wakefield County Hall as they were given the news.
The club was awarded its Super League licence on the promise of a move from the ageing Belle Vue site.
The Wildcats have been at Belle Vue since 1878 but the ground does not meet Super League licence criteria.
'Biggest day'
James Elston, the Wildcats' chief executive, said: "This is fantastic news and is the biggest day in the club's modern history.
"I would like to thank all supporters, players and staff who spent three hours outside showing their support for the club this morning and also to Wakefield Council."
Leeds City Council had described the plan as "an intrusion into the green belt". Some residents said it would ruin views.
Yorkcourt properties, the developers behind the scheme, said the site was zoned as green belt but was an old colliery.
Hundreds of fans lined the streets outside Wakefield County Hall and cheered as they heard of the council's decision.
The club is currently the subject of a winding up petition by Her Majesty's Revenue and Customs.
On Thursday Wakefield confirmed an anonymous benefactor had offered to pay their tax bill, providing the stadium plans were approved.