'Outstanding' honour for Ossett teacher Kelly Steeples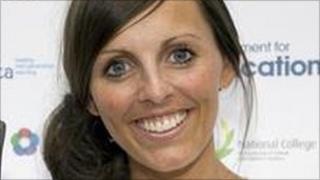 A teacher who dresses as Batman and begins lessons with Tai Chi has been voted outstanding new teacher of the year at a national awards ceremony.
Kelly Steeples was praised for her "unique teaching style" at Southdale CE Junior School in Ossett, West Yorkshire, at the UK Teaching Awards.
On a visit to the 25-year-old's school, award judges saw her begin classes with Tai Chi to focus pupils.
One judge said they had "goosebumps" watching her lesson.
Miss Steeples has dressed up as characters such as Batman or a tribal leader and transformed her classroom into a set from the film Avatar - including painting children's faces blue - to engage pupils in lessons.
The teacher, who has just been appointed assistant head at Southdale, began her career as a trainee on placement at the school.
The judging panel said Miss Steeples was "a jewel in the educational crown and one who is very likely to rise right to the top of the educational ladder".
Accepting a regional award earlier this year, Miss Steeples, a semi-professional dancer, said: "All the opportunities with the children at Southdale have taught me so much and they will always have a special place in my heart."
Miss Steeples's head teacher, Elodia Eccles said: "In over 30 years of teaching, I have never come across such a unique, outstanding teacher who is so very worthy of recognition."
The Teaching Awards, founded by Lord Puttnam 12 years ago, are open to every school in the UK and reward excellent teachers, head teachers, teaching assistants, governors and schools.
Among the other winners was Ambergate Sports College in Grantham, Lincolnshire, which was honoured for its work with children with learning and behavioural difficulties.
It was given a £15,000 bursary which will go towards helping students who are struggling, and those with strong potential.
The winner of The Royal Air Force Award for Teacher of the Year was Llew Davies, of Upper Bangor, Gwynedd.