Jobs 'are on way' at Wakefield's Trinity Walk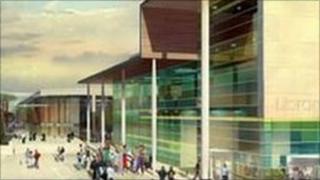 Hundreds of jobs are being advertised for staff at a new £200m shopping centre in West Yorkshire.
Vacancies are expected to be offered for both Sainsbury's and Debenhams at the Trinity Walk retail development in Wakefield.
Work on the centre is estimated to be completed by spring 2011.
Councillor Denise Jeffery whose is responsible for regeneration in the city said it would "breathe new life" into the economy.
Ms Jeffrey added: "We are delighted that Trinity Walk is moving forward with 250 jobs already being created.
"The development is really going to breathe new life into our economy by creating jobs.
"It is improving what we can offer to shoppers and supporting existing traders in the district."
The council and Jobcentre Plus and other training organisations are working with employers to train unemployed people interested in working in retail.
The jobs will be advertised in the coming months on the Jobcentre Plus website.
Anyone unemployed and interested in undertaking retail training can also call 01484 484546.