Plea to help buy Nostell Priory Brueghel masterpiece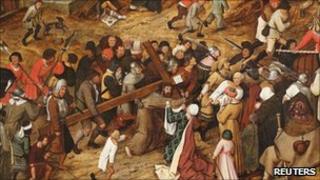 Art lovers have been asked to raise £1.3m to ensure that a 17th Century masterpiece by Pieter Brueghel the Younger stays on public view.
Supporters of the campaign have raised almost £1.4m already, but need to raise a total of £2.7m by Christmas.
The appeal was launched to save The Procession to Calvary, which has hung at Nostell Priory, near Wakefield, West Yorkshire, for almost 200 years.
It has gone on sale and it is feared it could go to a private collection.
The 1602 work, currently owned by Lord St Oswald, shows Christ carrying the cross on the way to his crucifixion.
More than 10,000 people have already donated to the appeal but it has now been included in The Big Give Christmas Challenge which runs all this week.
All donations given via The Big Give website will automatically be doubled.
Art Fund Director Stephen Deuchar said: "This remarkable painting has really captured the hearts of many of the UK public, helping us to come a long way in only two months.
"But we're just over half way with a significant sum still to raise. We urge as many as possible to double their donations through The Big Give and help us secure the painting for Nostell in time for Christmas."