Bradford students start uni sit-in over tuition fees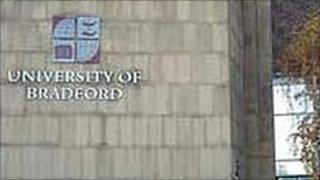 Students at the University of Bradford are occupying a building on the campus in a protest over tuition fees.
About 40 students started a sit-in at the institution's Richmond Building overnight on Monday.
The students are calling on university management to publicly back their opposition to government plans for a rise in fees.
No-one from the University of Bradford was immediately available for comment.
Other student occupations are continuing in buildings at Leeds and Sheffield universities.
Shelley King, 22, a student taking part in the Bradford sit-in, said they had decided to occupy the building following a meeting on Monday with the university's vice-chancellor, Prof Mark Cleary.
She said: "There needs to be public pressure to show the MPs the opposition that there is to the rise in tuition fees.
"We believe that should come from as many people as possible, including senior management.
"We are very aware that this is not just about a rise in tuition fees or cuts to education. It is about massive ideological cuts."
MPs will vote later this week on plans to raise fees to a maximum of £9,000.
The government says the proposals will protect poorer students and are designed so that better-off graduates pay higher contributions.