West Yorkshire Police's sex offence warning to drinkers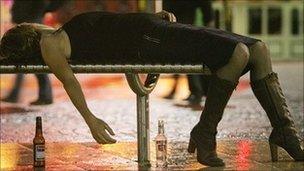 Christmas revellers in West Yorkshire are being targeted by police to try to cut the number of sexual offences during the festive season.
Officers will handing out anti drink-spiking devices and leaflets with safety advice to party-goers.
The plan is to work with Street Angels and Night Marshals in towns and city centres around busy pubs and clubs.
Police will be working with the NHS and Probation Service during the run-up to Christmas.
The scheme has been running for the last two years had seen a reduction of about 70% in sex-related offences.
Acting Ch Insp Jon Morgan, of West Yorkshire Police, said: "Christmas is a busy time of year in the pubs, bars and clubs around West Yorkshire and it is important that people know the risks that come with alcohol and the impact it can have on people's safety.
"We conduct this operation each year and it is a huge success and we want revellers to continue to listen to our advice and messages and not make themselves vulnerable through binge-drinking."
Related Internet Links
The BBC is not responsible for the content of external sites.