Kirklees Council workers vote for industrial action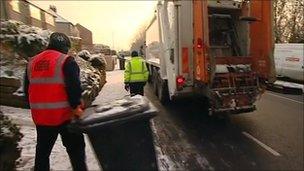 Thousands of council workers in West Yorkshire could go on strike in the new year after voting to take industrial action over job cuts.
Members of Unison at Kirklees Council are angry at plans for 700 redundancies by April 2014.
In a ballot of the council's 7,500 Unison members, 53% of those who voted backed industrial action.
It has not been decided what form the action would take, but the union said a five-day strike in January was likely.
Labour-controlled Kirklees council is based in Huddersfield, but also covers the towns of Dewsbury, Batley and Holmfirth.
Union officials said schools and gritting services would be hit hardest by any strike action.
The council said it was working with school headteachers to help minimise the impact of any strike action on pupils.
Unison spokesman Paul Holmes said: "It's about making people redundant, cutting people's wages.
"I think the public will understand that one week's strike is one week and what this council and this government are trying to do is cut services for ever and a day."
The council said in a statement: "Kirklees Council and Unison are still in talks to prevent a strike, despite a ballot which was marginally in favour of industrial action.
"Council negotiators have made a further offer to the union which will now be discussed by the local branch."
Kirklees council director Ken Gillespie said: "We are disappointed that there was a small majority of those who voted in favour of a strike, but I would stress that the ballot was called on the results of negotiations as far back as October.
"Since that time, and even during the ballot period, we have continued to work with union representatives to find a solution which is fair to employees and fair to local people.
"Those talks have been constructive and I am still hopeful that we can reach a solution before any strike action.
"In the event of any action, we are committed to maintaining essential services in a very difficult time."
Related Internet Links
The BBC is not responsible for the content of external sites.