Crash victim's father issues Christmas drink-drive plea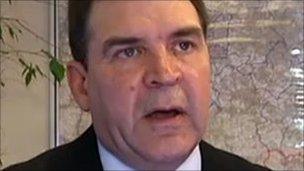 The father of a teenager who died in a car crash has urged motorists not to take a chance with drinking and driving during the festive period.
Adrian Davison, 18, and his best friend died when their car crashed in November 2002. Both of them had been drinking.
Adrian's father Tony and West Yorkshire Police are appealing to party-goers not to drive after drinking.
Mr Davison, of Otley, near Leeds, said: "It's just not worth taking the risk for a couple of pints."
He added: "I wouldn't wish it on anybody else, that knock on the door, that death notice being delivered.
"It was a tragic and unnecessary waste of two young lives. I was angry with the driver, who was Adrian's best friend, but I had no bitterness and no hatred, he was such a nice young lad.
"My message to anyone who thinks that drink or drug driving is worth the risk is simple - it's not. If you kill someone you live with it for the rest of your life."
West Yorkshire Police said its officers stopped 2,404 motorists on suspicion of driving under the influence of alcohol in December 2009.
Of those people, 155 either gave positive breath samples or refused or failed to provide a sample.
Last weekend officers stopped nearly 100 motorists and only one tested positive for being over the limit, a spokesman said.
Ch Insp Elizabeth Belton, who leads the force's road policing unit, said: "[Last weekend's figure] hopefully means that people are listening to our message and not drinking and driving or taking drugs and driving.
"I want to remind motorists that our officers will be out in both marked and unmarked vehicles on all of West Yorkshire's roads.
"Think about Tony Davison... and think about the lifelong consequences that others will face because of your actions."
Related Internet Links
The BBC is not responsible for the content of external sites.