Four jailed after £15m Wakefield drugs seizure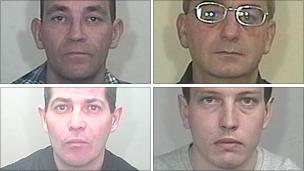 Detectives believe they have smashed an international drugs ring after four men were jailed over a £15m drugs seizure.
Police found three and a half tonnes of cannabis in a raid at a warehouse in Wrenthorpe, Wakefield, in October 2008.
Robert Price, Scott Weaver and brothers Andrew and Graham Lee were all jailed at Leeds Crown Court on Thursday after admitting drugs offences.
West Yorkshire Police said: "Drugs have been stopped from reaching the streets of many local communities."
Price, 55, of Hollyshaw Terrace, Whitkirk, Leeds, was sentenced to eight years in jail while Weaver, 30, of the same address, was jailed for five years and three months.
Andrew Lee, 46, of Wrenthorpe Road, Wakefield, and Graham Lee, 43, of Christopher Walk, Lichfield in Staffordshire, were both jailed for three years and four months.
Judge Kerry MacGill told the men: "This was a huge amount of drugs involved.
"It was a professional operation on a grand scale."
The court was told that when police raided the lock-up premises in Wrenthorpe Road they found about three and a half tonnes of cannabis hidden in flower boxes.
The premises were split into several rooms with a hidden room behind a cupboard.
West Yorkshire Police found equipment for the large-scale distribution of cannabis resin, including digital floor scales and equipment for grinding cannabis, and a kilo of amphetamines.
After the sentencing, Det Insp Stuart Spencer, of Wakefield CID, said: "This property in Wrenthorpe was undoubtedly the northern distribution hub for an international drugs ring.
"The excellent work of detectives has meant that the drugs have been stopped from reaching the streets of many local communities where it destroys many lives.
"I, personally, have never seen this amount of drugs before."
The premises were being rented by Andrew Lee, but police discovered he had fled to London with his brother Graham, who later fled to Spain.
Subsequent raids on properties in Leeds led to further seizures of drugs, including cannabis and amphetamines, and the recovery of £175,000 in cash.
Andrew Lee was eventually arrested in London and Graham Lee was arrested on his return to the UK along with Price and Weaver.
Using the Proceeds of Crime Act, West Yorkshire Police are now taking action to seize more than £800,000 of assets from those involved in the case.
Related Internet Links
The BBC is not responsible for the content of external sites.