Council considers closure of Halifax Piece Hall market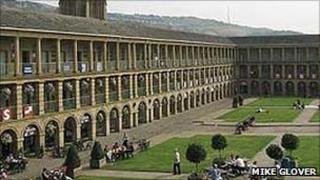 The Piece Hall Market in Halifax could be closed to save money, under plans being considered by Calderdale Council.
The council said there had been a decline in the number of traders at the market, which is held in Britain's last 18th Century cloth hall.
It is now considering closing the market, in a move which could save £32,000 a year.
The proposal will be considered by Calderdale Council's Cabinet at its meeting on 10 January.
The market is currently held in the historic building on Thursdays and Saturday.
If councillors vote in favour of closing the market, it will cease operating at the end of February.
Relocation packages
The council, which is run by a coalition between the Liberal Democrats and Labour, said it would continue to operate "one-off" markets and relocation packages would be offered to the traders who occupy the site.
It added that if approved, it was likely the Saturday market would end with immediate effect.
Councillor Barry Collins, cabinet member for economy and environment, said: "While no decision have yet been taken, it's clear that we simply cannot afford to lose £32,000 every year on the Piece Hall Market in these difficult times."
The market was temporarily closed in 2006 on health and safety grounds, but was later reopened, following a public campaign.
"Sadly, despite this, we were never able to attract enough traders back to the site," Mr Collins added.
"This may be, in part, because Halifax has one of the best indoor markets in the country close by, and that continues to thrive and be a magnet for shoppers."