Wakefield Council to slash a tenth of workforce in cuts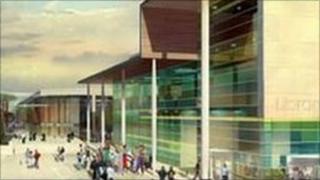 Wakefield Council is to slash a tenth of its workforce over four years - with some compulsory redundancies - as it faces its "toughest ever budget".
The cost of school meals will increase by 20p and garden waste collections will drop to monthly collections as part of plans to save £67m by 2015.
About 1,700 jobs in total will be axed, with some 500 going in 2011/2012.
The Labour-controlled authority's leader, Peter Box, said up to 25 of the first job losses would be compulsory.
The council said job losses were unavoidable in achieving the required savings target.
There will be a 28% reduction in the number of senior management posts, taking the number from 93 to 67, and the corporate management team has volunteered to take a 5% pay cut.
The 24-hour Streetscene rapid response team will also be scrapped.
The council said investments would continue to be made in children and young people services and regeneration projects like Trinity Walk and The Hepworth Gallery.
Mr Box said: "This is the toughest budget in living memory.
"We've been forced into making cuts we don't want to make, but at the same time we are doing all we can to prioritise services that mean the most to local people, protecting services for vulnerable people and those most in need.
"Cuts as big as theses can not be made from efficiencies alone, to claim otherwise is just nonsense.
"We've been left with no choice but to cut some services and jobs, something I deeply regret."