Kirklees adult social care cuts approved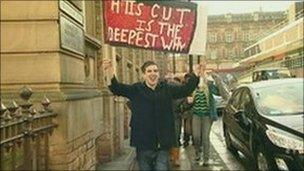 Adult social care in Kirklees is being scaled back as the council makes millions of pounds of savings following government funding cuts.
Vulnerable people will now have to be in "critical" need in order to access care as part of changes to the service.
Kirklees Council said the new approach would result in £2m savings a year, contributing to the £80m savings the council has to make by 2014.
The proposals were voted through at a meeting on Wednesday night.
The council said a person defined as "critical" included those whose life was threatened or had significant health problems.
A spokesman said there would still be discretion for people with "high substantial needs" to get support.
The changes have come under fire from protesters who say vulnerable and disabled people will suffer.
Dozens of objections were submitted to the authority.
One comment said: "Adult care is vital. The council previously tightened the eligibility criteria to substantial/critical. Now it is considering providing care for critical only I think this is unfair. This care is vital for disabled people in order to carry out basic functions."
Another said: "My husband struggles as it is. He desperately needs a rest from taking care of me. I am safe and well taken care of whilst I'm at day care. There is no way we would cope without this service."
A report to the Labour-controlled council said: "Long term demographic and financial pressures indicate that our current model of care services is unlikely to be sustainable in the long term."
The council said its "new vision for social care" involved "investing in prevention and helping people to keep their independence in their old age while working closely with the NHS".
A joint statement by the council's party leaders said: "We, reluctantly, accept that the council will need to restrict statutory care to those assessed with critical needs.
"We do, though, expect the council to provide services on a discretionary basis to those with high substantial needs that could become critical."
Related Internet Links
The BBC is not responsible for the content of external sites.