Bradford family fire deaths: brothers jailed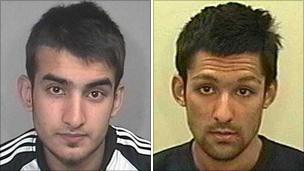 A man who killed two children and their mother in an "evil and cowardly" arson attack in West Yorkshire has been jailed for at least 29 years.
Asjid Mahmood, now 22, was jailed for life at Bradford Crown Court for the murder of Iram Shah and her children Alina, 10, and Aman, eight.
The victims died after a blaze started by Mahmood swept through their home in Bradford in July.
Mahmood's brother, Arshed Mahmood, 18, will serve 17 years for manslaughter.
The judge, Mr Justice Coulson, told the brothers: "To light a fire in the small hours of the night at the back door of a domestic property was an evil and a cowardly thing to do and had inevitably tragic consequences.
"This was an appalling and horrific crime."
The brothers started the fire at the family's home in Hendford Drive following a business dispute with the children's father, the court heard during the trial.
During a two-week trial last month, Asjid Mahmood claimed he was only trying to scare Mrs Shah's ex-husband, who had left the house only a short time before the fire started.
Mrs Shah's brother, Mohsan Rasa, described how he was watching TV when the fire started and although he got upstairs to warn the family, it was impossible to get back down again.
He said he climbed out of a back window and onto a lower roof where he waited for his sister to pass the children out to him.
But no-one came and the fire was too intense to climb back in, he said.
Mr Rasa went round to the front of the house where he saw his sister burning on the ground having jumped.
He said she was shouting for people to save her children as he tried to help her.
The jury was told Mrs Shah suffered 80% burns and was taken to hospital where she died six days later.
Both the children died in the house, despite efforts by neighbours to get into the building.
Andrew Stubbs QC, prosecuting, read sections of a victim impact statement made by Mr Rasa which said: "I feel so helpless I was unable to prevent their deaths.
"Every time I close my eyes I still see Iram's fragile body burnt and broken - still hear her crying for help.
"I will never forget that moment I took her into my arms after she fell out of the window nor forget the intensity with which she looked into my eyes and asked me to save her children."
A jury of seven men and five women found Asjid Mahmood guilty of murder last month. They cleared his brother of the more serious charge but found him guilty of manslaughter.
The judge told the court: "Crimes of this sort are by no means uncommon. They appear to be particularly prevalent in certain communities."
The judge said courts would not tolerate aggrieved people taking "the law in their own hands" in this way.
Related Internet Links
The BBC is not responsible for the content of external sites.