Bradford diocese church attendance increases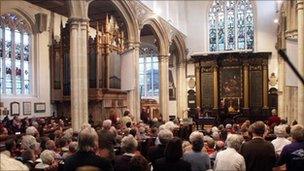 Church attendance in Bradford has seen a significant increase, according to the latest national figures.
Statistics for 2009 show that average weekly attendance for the Church of England in the Bradford diocese rose by 5.7% from 12,200 to 12,900.
Out of 44 dioceses, 16 showed an increase in average weekly attendance, with Bradford in 6th place.
Diocesan spokesman the Rev Robin Gamble said: "I know we're a growing diocese, but I hadn't realised by how much."
He said churches in the Bradford diocese had "a huge passion" to reach out into their local communities every day.
"As people lead busier lives and are often working and travelling on a Sunday they are looking for new services seven days a week and the Church is providing them ," he added.
It has introduced mid-week communion services and after school teatime family services that might include creative activities and a meal.
Across the country, the attendance of children under the age of 16 has held steady and the average weekly church attendance has shown only a slight drop from 1.145m to 1.131m.
Related Internet Links
The BBC is not responsible for the content of external sites.