Funeral for soldier Martin Bell killed in Afghanistan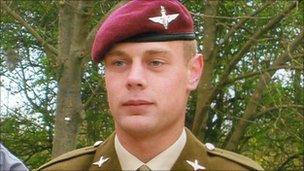 The 350th soldier to be killed in Afghanistan has been described as the "epitome of courage" at his funeral in West Yorkshire.
Pte Martin Bell, 24, from Bradford, was serving with the 2nd Battalion the Parachute Regiment when he died.
He died in an explosion in Helmand province helping a wounded comrade, who survived. In order to rescue him, Pte Bell disobeyed a direct order.
The funeral service took place at Bradford Cathedral.
The service with full military honours was led by Pte Bell's parents and his brothers Oliver and Philip.
Pte Bell's father, Simon, 52, said: "Martin was my son, my brother, my hero, my best friend and, along with his brothers, my everything."
The paratrooper's mother, Elaine, 53, told the service: "We've learned that he truly was courageous."
Pte Bell died on 25 January after disobeying direct orders and going to the aid of an injured comrade.
Lieutenant Colonel Andrew Harrison, the commanding officer of 2 Para, said it was "one of the bravest acts I've witnessed in 23 years of soldiering".
He said the paratrooper was part of a patrol sent to recover kit after a soldier lost his legs when he triggered an IED (improvised explosive device), while the patrol looked for the kit another IED went off, seriously injuring a second soldier.
Lt Col Harrison said Pte Bell and his commander were told not to move and Pte Bell "visibly acknowledged" that order.
But "as soon as that commander's back was turned", the paratrooper "began to cross what was probably the most dangerous piece of terrain in the world at the moment".
Pte Bell reached his wounded friend and applied a tourniquet to stem the blood which medical staff said "saved that soldier's life".
Lt Col Harrison said: "As the rescue team approached, the third IED exploded.
"He was the epitome of courage and the finest example of what makes this country great.
"His reputation will resonate long after we have gone."
After the service the family released 357 balloons to mark the number of servicemen who have died in Afghanistan.
Related Internet Links
The BBC is not responsible for the content of external sites.