Second BBC Crimewatch appeal over Wakefield fatal fire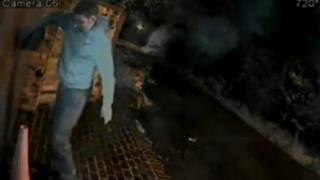 Police have made a second appeal for information on the BBC's Crimewatch show about the death of a woman in an arson attack after a new lead emerged.
Lea Brooke, 81, died after white spirit was poured through the letterbox of her home in Walton Lane, Wakefield, and ignited in November 2008.
An anonymous caller to the first Crimewatch appeal last month suggested a link to a previous arson incident.
Police said CCTV footage shown from that crime had sparked more calls.
The footage showed two men pouring accelerant from a petrol can on to a plastic cone and setting it alight before driving off in a red car.
'Deliberate targeting'
The incident happened at a property in nearby Milnthorpe Green, Sandal, less than two months before Mrs Brooke was killed.
Police said the CCTV footage formed part of their initial investigation and was circulated internally and published on the force's website, but yielded no results.
Det Supt Dave Pervin said: "Following the anonymous call to Crimewatch in January we made the decision to further publicise the CCTV footage from the incident in August 2008 in the hope that someone with information may come forward.
"The nature of this crime would suggest a deliberate targeting of the owner's property.
"We received several calls into the programme and are now making further inquiries into the information which was provided."
He added: "We would very much like to speak to these two men or hear from anyone who may know who they are in order to eliminate them from our inquiries.
"I would also appeal to the anonymous caller to contact us as we are very interested in what he has to say.
"Mrs Brooke's family are still dealing with the devastation caused by her death and there is the added suffering while her killer is still at large."
Police have previously said they do not think Mrs Brooke was the intended victim of the attack.
An inquest into Mrs Brooke's death in Wakefield recorded a verdict of unlawful killing.