Parents lobby MPs over Leeds children's heart unit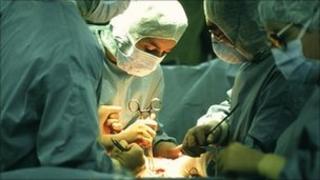 A mother has led a delegation to Westminster in an effort to save a children's heart surgery unit in Leeds.
Gaynor Bearder, from Huddersfield, went to meet MPs as the future of the Children's Heart Surgery Unit hangs in the balance.
The unit is under threat as an NHS review of the 11 centres carrying out the work considers future provision.
Ms Bearder said the possibility of children travelling to Newcastle for treatment could cost lives.
Ms Bearder, whose son Joel was treated at the Leeds unit, said closing the surgical unit in Leeds was "unfair on children".
She said: "An extra 100 miles away for babies like Joel that had such a little amount of time left and was so poorly, they're just not going to make it, they won't survive.
"It's not just emergency transfers, it's being separated from your family.
"It will just make such a heart-breaking situation a million times worse.
"I think they're putting money and finances before the lives of our children and quite frankly our children deserve more than that.
"They fight every single day to stay alive.
"These people that make these decisions, they should think about it as if it was their child or grandchild.
"What would they want? They'd want the best care and they'd want it to be local."
A final decision will be made in the autumn and surgery could stop at the affected units by 2013.
The NHS national review looked at all 11 units in England amid concern expertise was being spread too thinly.