Copper cable thieves 'risked lives' of M62 drivers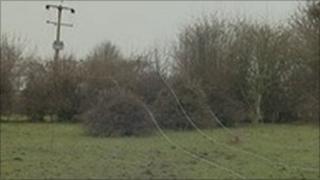 Motorists' lives were put at risk by thieves who cut down an 11,000 volt electricity pole in an attempt to steal copper, a power company said.
The overhead lines across the M62 at junction 30, Rothwell, were cut down overnight.
The sliproad has been closed and police cars are slowing traffic on the motorway until the lines can be moved.
CE Electric said they had dealt with 123 metal thefts in Yorkshire since January.
Paul Norton, head of health and safety, said: "As a company we have to deal with incidents of copper theft on daily basis.
"In this instance, commuters' lives have been put at risk by the mindless actions of these thieves.
"Their complete lack of regard for the consequences of their actions only highlights the extreme lengths these thieves are willing to go to.
"It's bad enough that copper thieves are prepared to put their own lives on the line, but their total lack of concern for the safety of others is unforgivable."