Hepworth United player 'died from natural causes'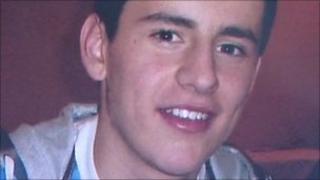 A teenage footballer who suffered a head injury during a local under 15s match died from natural causes, a coroner's office has said.
Fifteen-year-old Huw Thatcher was playing for Hepworth United Juniors in a game at St Giles Road in Brighouse on Sunday when the incident happened.
The Holmfirth High School pupil was taken to hospital where he later died.
Team coach and family friend Nigel Bowers said he was "just a great guy, he'll be tremendously missed".
Mr Bowers said about 200 of Huw's teammates and schoolfriends had gathered in Holmfirth on Monday to pay tribute to him.
"Huw was a larger-than-life lad, really popular with all his teammates and classmates," he said.
"He always had a smile, he was a bit of a joker but never had a bad word for anybody and was liked by everybody.
"He lived and breathed sport, everything about it was his life.
"He was such a fit, strong lad. He was just playing football like he normally did on a Sunday and this unfortunate thing happened, it's tragic, tragic."
Mr Bowers said Huw's father Nick was also a coach at the club.
"I've known Nick a long time and they are just devastated, trying to hold things together because they have a young daughter as well."
In a statement, Gail Howe, acting head teacher at Holmfirth High School said the teenager's death had left the school community "devastated".
'Bright future'
"He was a year 10 student who was intelligent, popular and respected by his peers. Huw was a polite, conscientious student with a great sense of humour and a cheeky smile," she said.
"Academically, he had a bright future ahead of him.
"Sport was the love of his life - he was a gifted and talented sportsman who captained the school football team with pride and passion.
"Huw will be sorely missed both in and out of the classroom."
Ms Howe said their thoughts were with Huw's parents and sister.
"In school, our priority is to do all we can to support the students, staff and the family over the next few days and weeks," she said.