Crossbow cannibal victim's body 'unlikely to be found'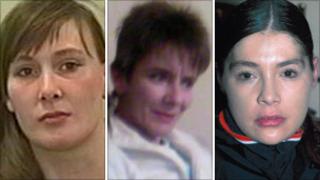 The body of one of the victims of "Crossbow Cannibal" Stephen Griffiths is "extremely unlikely" to be found, an inquest was told.
Susan Rushworth, 43, was one of three prostitutes killed by Griffiths at his flat in Bradford, West Yorkshire.
The body of Suzanne Blamires, 36, was found in the River Aire, Shipley, along with part of Shelley Armitage, 31.
Bradford coroner Roger Whittaker recorded a verdict of unlawful killing on Miss Rushworth.
Det Ch Insp Mark Ridley, from West Yorkshire Police, told the family at the inquest: "I think it is extremely unlikely, given the passage of time, that Susan's body will ever be found."
Bradford Coroner Roger Whittaker told family members in court, including her mother Christine Thompson and her daughter Kirsty Rushworth, how he was sorry they had to hear this detail.
Hammer attack
But Mr Whittaker said it was necessary to enable him to conclude the inquest.
The coroner explained how he had to get special permission from Justice Secretary Ken Clarke to hold the inquest without a body.
But he explained how he was satisfied, given the evidence he had heard, that he knew how Miss Rushworth died.
Leeds Crown Court heard last year heard how Griffiths had admitted killing Miss Rushworth by hitting her with a hammer.
The coroner said that despite having no body for examination he was satisfied Miss Rushworth died from head injuries.
The inquest was told how Miss Rushworth went missing on Monday 22 June 2009.
Mr Whittaker said he was satisfied he could record that she died on or around that date.
Griffiths was sentenced to three life terms and told he will never be released from prison after he admitted the three murders last year.
A court heard how the post-graduate student was caught on CCTV killing Miss Blamires with a crossbow in a corridor in his flat complex on Thornton Road, in Bradford.
Griffiths, now 41, dismembered the bodies in his flat and police found evidence he may have cooked and eaten body parts.