Teacher sacked over racy novel has book published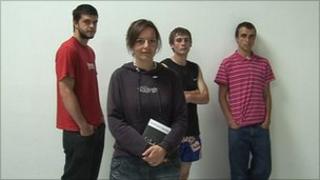 A West Yorkshire teacher who was sacked for writing a racy novel about her pupils has published the book that got her into trouble.
Leonora Rustamova was sacked from Calder High School in 2009 amid claims she brought the school into disrepute after a copy appeared online.
It described teenage fantasies, named teachers and featured Year 11 pupils.
Ms Rustamova, who is now unemployed, said she had written the book to encourage a challenging class to read.
She said it had been written at the request of a group of five disaffected Year 11 (15 and 16-year-old) boys.
The novel Stop! Don't Read This has now been published in paperback.
The school has been anonymised but the former pupils' names remain the same.
Ms Rustamova, who is still in touch with the teenagers featured in the book, said publishing it was her way of fighting back against the criticism.
"It wasn't anywhere near as risque as it sounded," she said.
"I was really trying to write something that was actually dealing with the reality of those kind of marginalised students.
"It wasn't based on fact it was just based on the kind of problems facing disaffected teenage boys up and down the country."
She said the book "worked well" and encouraged the students to read.
"To be honest after my intial experience with the class, I thought that after the first chapter or two it would just die a death but by the time we got to chapter five I realised it wasn't going away and it was going to become a full book."
One of Ms Rustamova's former pupils Travis Down, who features in the novel, said it had encouraged him to read and helped change his attitude at school.
"Ms Rustamova was one of the best teachers at school mainly because she understood what was going on with us and she bothered to listen and spend time trying to understand us."
He added: "In some ways it helped me get into reading but there's other things as well like helping me to calm down instead of kicking off instantly... and generally just help me to understand teachers better."