Minibus 'boosts attendance' at Bradford primary school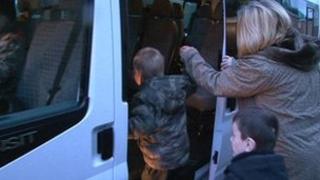 A Bradford school has set up its own minibus service to ensure pupils who regularly miss classes make it to school on time.
Ryecroft Primary School, on the city's Holme Wood estate, started the service in an attempt to reduce higher than average levels of absenteeism.
According to the head teacher, around 30 of the school's 185 students were regularly missing half their lessons.
Since the minibus was introduced absences have dropped by 50%.
Head teacher Jayne Clarke said the school now met the national average for the number of absent without permission pupils.
She said: "When you're talking to your class and getting you lessons set up for the day if there are children missing then you need to do that teaching again and that slows down progress."
The scheme was introduced in September and costs around £300 per week to run.
The bus calls directly at pupils' houses in the morning to pick them up.
One parent to benefit from the service is Melissa Head, who said she felt guilty about her two children missing lessons.
"I'd say before the minibus they were having about three days a week off. Their attendance was really, really low," she said.
"Whereas now, they're actually on the bus and they're making more friends and they're getting there and it's actually majorly improved now."