Yorkshire NHS nurse warns of 'crisis' in patient care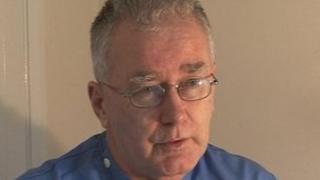 A West Yorkshire NHS nurse has warned of a "looming crisis" in patient care if the health bill currently before parliament becomes law.
Chris Gibson, an NHS staff nurse from Ossett, said he was speaking out because the Health and Social Care Bill for England was "a cut too deep".
Mr Gibson said increased pressure on staff meant a greater chance of errors.
Jo Webber, from the NHS Confederation, said it was "generalising" to say the whole of the NHS was under pressure.
If passed, the Health and Social Care Bill for England would be the biggest reorganisation of the health service since it was introduced in 1948.
The bill's proposals include giving GPs control of much of the NHS budget and opening up the health service to greater competition from the private and voluntary sector
'Drastic reductions'
Mr Gibson said the health service was already being "divided up and dismantled" and it would face a "serious problem" if the health bill became law.
He said: "We are heading towards a crisis in what we expect from the NHS. We expect a comprehensive and universal service but if this bill goes through, that guarantee won't be there anymore."
Mr Gibson, who has written a series of short plays satirising the state of the NHS which have been performed at a number of small venues in West Yorkshire, said the health service already faced "drastic reductions" in staff numbers.
The government's proposals would stretch the NHS to "breaking point", he said.
"It could mean patients being neglected, things being missed, errors being made - not because of inefficiency or incompetence, but because nurses are diverted to caring for someone else," he said.
Ms Webber, deputy policy director at the NHS Confederation, said local discussions between medical staff were key to maintaining the right level of staffing for the needs of their patients.
"It's generalising too much to say that the whole system is under pressure, but obviously there is a need to save money and to make sure people work more effectively and efficiently," she said.
"We need to keep the quality of care that people receive at the centre of all this. We will be monitoring how the pressure feels and where money should be invested."