Facebook appeal for teacher in coma after Thailand assault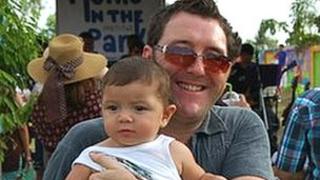 Friends of a former Leeds teacher left in a coma after an assault in Thailand are appealing for funds to pay his medical bills.
Adam Pickles, 40, was hit on the head with a metal bar in an attack last week in the city of Pattaya.
His friends have set up a Facebook page to raise the £2,000-a-day needed for his treatment.
The Foreign Office said it was aware of Mr Pickles' case and was providing consular assistance to his family.
Mr Pickles, who has lived in Thailand for seven years and works as an English teacher at a local college, remains in a critical condition.
'Living nightmare'
His parents have flown out from their home in Leeds to be by his bedside.
His mother, Adele Pickles, said doctors were waiting for their son to come out of his coma before they could fully assess his injuries.
The situation was a "living nightmare", she said.
"He's still on a ventilator," she said.
"It's just a case of living day by day and hoping and praying each day that it is good news."
His parents are helping to look after Mr Pickles' eight-month-old son Benjamin.
According to the fundraising page, the teacher's medical insurance has yet to pay out and is unlikely to cover the full cost of his treatment.
Katie Jones, one of the friends behind the campaign, said the medical costs were high because Mr Pickles was being treated in an intensive care unit.
She said: "Earlier this week the hospital asked for another £3,000 to pay for the medication which they needed to change, which will take him through another six days."
"Everything is really expensive over there."