Minister backs Wakefield Trinity Wildcats' stadium move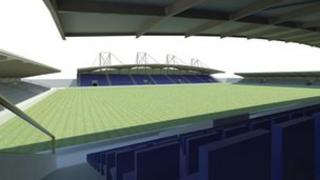 Plans have been approved for a new stadium which will secure the future of rugby league club Wakefield Trinity Wildcats.
Wakefield City Council backed the development on green belt land bordering Leeds and Wakefield in 2010.
The case was the subject of a public inquiry in December 2011 and eventually went to Communities Secretary Eric Pickles for a decision.
The club said Mr Pickles' department had now approved the move.
They said the 12,000 capacity stadium at junction 30 of the M62 was expected to be completed in time for the beginning of the 2015 season.
A spokesman said the ground would be owned by the Wakefield & District Community Trust and be available to the community to use.
Wakefield Trinity Wildcats were awarded a Super League licence providing they moved from their ageing Belle Vue site.
The Wildcats have been at Belle Vue since 1878 but the ground does not meet Super League standards.
Leeds City Council had previously described the plan as "an intrusion into the green belt". Some residents said it would ruin views.
Yorkcourt properties, the developers behind the scheme, said the site was zoned as green belt but was an old colliery.