Tributes paid to killed soldiers from Yorkshire Regiment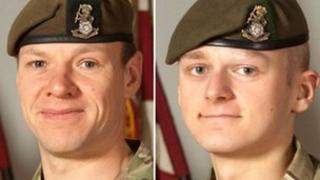 The family of a soldier killed in Afghanistan have said they knew the risks, but did not think he would die on duty.
Pte Thomas Wroe, 18, and Sgt Gareth Thursby, 29, both of 3rd Battalion, The Yorkshire Regiment, were killed in Helmand's Nahr-e Saraj district.
The killer lured them to his side with a fake injury before firing on them.
Pte Wroe's parents said they did not regret him going to Afghanistan "but you don't expect it to be your lad".
Sgt Thursby was a father-of-two from North Yorkshire and Pte Wroe had family from West Yorkshire.
Pte Wroe's parents, Mick and Claire, said their son was a "fun-going guy who would do anything for anyone".
Mick Wroe said: "He couldn't go out there until he was aged 18.
"He was itching to go, to join his mates."
'Devastated'
Mr Wroe added: "We don't regret him going out there, we all knew the risks, but you don't expect it to be your lad."
Mr Chris Sylge, head teacher of Honley High School where Pte Wroe was a pupil, said: "Staff were of course devastated to hear the news.
"Colleagues remember Tom as an extremely popular young man and a terrific sportsman who was well loved by staff and students alike."
Sgt Thursby, from Skipton, who was promoted to sergeant in 2010, had previously served in Kosovo and Iraq.
His commanding officer, Lt Col Zachary Stenning, said: "I heard just a few weeks ago that he had told his platoon to call him Dad during the tour. That is how he saw himself - a father figure for 30 men and women involved in gruelling operations in Helmand."
Sgt Thursby's wife Louise described her husband as "our hero".
"He was an amazing husband and father, happy, full of life and kind-hearted with a passion for his work and family," she said.
'Immense loss'
"He was brave, hard-working, a loving husband who was a devoted father to his children."
Alex Bentley of the Royal British Legion in Skipton said Sgt Thursby's death would be felt by many in the North Yorkshire town.
He said: "It will make people bitter, it is a very, very close community.
"It's an immense loss, and you've got to think about his wife and family.
"Two kiddies who will not see their father again."
The deaths take the total of British military personnel killed in Afghanistan to 430 since operations began 2001.