Jailed Bristol drug baron thought himself 'untouchable'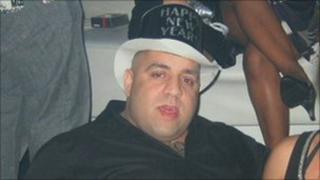 Drug baron Tariq Dad believed he was "untouchable", according to the detectives who brought him to justice.
They said he used his network of dealers to do his dirty work for him so he could live a life of luxury.
Tariq Dad, his brother Mazar Dad and two others were jailed on Wednesday for conspiracy to supply cocaine.
He was a major supplier of heroin to drug dealers in Bristol and the south west of England, according to the Serious Organised Crime Agency (Soca).
Matt Horne, head of investigations at Soca, said: "Tariq Dad and his network brought misery and violence to Bristol for years.
'High life'
"He thought he was untouchable, using others to do his dirty work while he lived the high life, but we were watching his every move."
Mr Horne explained that breaking up Dad's network made him vulnerable and led to his arrest and downfall.
"Like every organised criminal, he relied on reputation to stay in business," he said.
"Soca and its partners attacked each link in the chain, from street dealers to overseas suppliers, to undermine his status.
"Eventually other criminals would no longer trade with him for fear of being arrested.
"The relentless drug and cash seizures disturbed Dad so much he stopped his drug trafficking activities for nine months.
"We squeezed him again, by blocking access to his offshore bank accounts and arranging for his cars to be repossessed.
"In desperation for cash, he was forced to go hands-on with a drug deal which gave us the evidence to arrest him. His network has now been completely dismantled."
The two brothers were convicted in 1995 for possession with intent to supply heroin.
Tariq Dad was jailed for 11 years and Mazar Dad received a 10-year sentence. One of their other brothers, Araf, was also jailed for 10 years.
Mazar Dad was later sentenced to two years in 2004 for conspiracy to blackmail, and Araf Dad received 13 years for blackmail and possession of a firearm.
These offences related to a series of "tit-for-tat" shootings, kidnappings and violence as part of a drugs turf war between the Dad network and a rival gang in Bristol, according to Soca.
This war culminated in the murder of one of their enforcers, Stephen Henry, who was shot outside a nightclub in 2003.
Despite no visible form of legitimate income, Tariq Dad lived in a penthouse apartment in Cumberland Street, Bristol, and had use of two top-of-the-range BMWs.
Mazar Dad lived in an apartment at Harbour House, Hotwells Road, Bristol, with his girlfriend and had access to two vehicles - a Renault and an Audi TT.
During their investigation, which began in 2006, police seized more than £130,000 in cash, froze offshore bank accounts containing £412,000 and seized more than 100kg (220lb) of heroin including 90kg (198lb) found at a warehouse in Istanbul, Turkey.