Campaign to save Filton Concorde after closure fears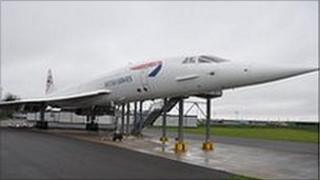 An emergency campaign has begun to secure the future of a Concorde exhibit near Bristol, amid fears it could close permanently.
The jet, on display at Filton airfield, is due for maintenance in the autumn and will be closed to the public.
Airbus has set no date for its return, which has raised concern that it could disappear from public display forever.
The Save Concorde Group, which is fighting to get the jet airborne again, said the museum must remain open.
The plane - Alpha Foxtrot - was the last of the fleet to fly when Concorde was withdrawn from service by British Airways in 2003 due to spiralling running costs.
Scheme delayed
The Concorde Trust, formed in 2007 to help create a permanent covered home for the jet, said the scheme had been seriously delayed because of the economic climate.
The BBC has also learnt that two people employed to manage the aircraft have been made redundant.
Ben Lord, from the Save Concorde Group, said: "This museum needs to be kept open.
"That's why we've launched our campaign SOS, Save Our Speedbird, on behalf of the people of Bristol to prevent Concorde from being removed from public display, or at the very least find out exactly what's happening to the aircraft and ensuring she goes back on public display as soon as possible."
British Airways, which owns the plane, said it had handed over responsibility for the aircraft to Airbus.
Airbus said until it was known what maintenance was needed, a reopening date could not be given.
A statement said: "An inspection has taken place and we are analysing the information gathered.
"From that, we will determine what maintenance may be required and where that maintenance will be performed.
"Until we determine what maintenance will be required, we do not have a reopening date for the exhibit."
Other Concorde exhibits are located at Manchester Airport, Edinburgh, Heathrow Airport, Seattle, New York and Barbados.