Bristol animal rescue charity centre 'full to bursting'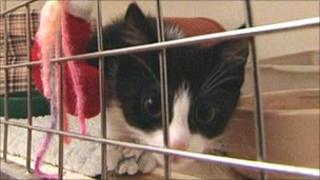 An animal rescue charity in Bristol says the number of stray and unwanted cats brought in means it is full to "bursting point"
The RSPCA in St Phillips said its primary role was to look after sick and injured animals but the backlog of "healthy" animals was hindering this.
It said all the cats and kittens brought in had to checked before they could go through the rehoming process.
"This gives us a bed-blocking problem," a RSPCA spokesman said.
He added: "The problem we have at this time of the year is the rehoming is carried out though the Bristol Dogs and Cats Home which has a limited capacity.
"They're full to bursting point and cats and kittens are still coming through the doors.
"They all have to come into the RSPCA clinic to have health checks first so we have a backlog in our kennelling areas.
"Our primary function is as a veterinary clinic to treat the injured so all those spaces taken by healthy and stray animals are spaces we don't have for the sick and injured.
"So we have a bed-blocking situation for want of a better phrase," he added.