Thieves try to steal Lloyds TSB cashpoint in Bristol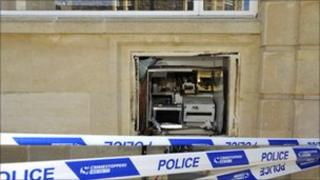 Thieves have tried to steal a cash machine from outside a bank in Bristol.
A police spokeswoman said officers were called to the Lloyds TSB cashpoint on Henleaze Road to reports of the attempted theft at about 0200 BST.
"It looks like offenders have tried to pull the front off the cashpoint," she said.
A spokeswoman from the bank said no money had been stolen. Police are still investigating.
The Lloyds TSB spokeswoman said staff were trying to get the cash machine working as soon as possible.