Shop rejections threatens new Bristol City ground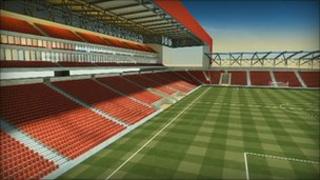 Bristol City FC says a decision to reject plans for a Sainsbury's store on its Ashton Gate ground raises questions over the viability of its new stadium.
The club had hoped the land sale would help fund its proposed £92m stadium at nearby Ashton Vale.
A club spokesman said although the club remained ambitious it could not move forward without the ground's sale.
"We're confident of strong grounds for an appeal, but need to consider all our options," he added.
The football club said it was "extremely disappointed" with the decision by council planners to refuse the application to relocate Sainsbury's Winterstoke store to Ashton Gate.
"We had worked extremely hard with planning officers and felt that we'd addressed all planning issues. This was borne out by the officers' recommendation that members approve the application.
"We deeply regret their decision to ignore their officers' professional advice, as well as the advice of independent planning experts.
"We are confident that there are strong grounds for an appeal, but we need to consider all our options before making a decision.
"Last night's [Wednesday] decision will, at the very least, delay the stadium plans, and does indeed call the viability of a new regional stadium into question.
"We remain ambitious as a football club, both on and off the pitch, which, at the moment, is more than we feel able to say for our city's planners.
Bristol City Council said it had no further comment to make regarding the planning decision.
Southville Green Party councillor Tess Green said: "I think the community made a very good point about why they didn't want a huge supermarket in their midst.
"There is a smaller [Sainsbury's] supermarket just over the road - about half the size - and that serves the community very well.
"People who live locally know that Sainsbury's isn't very crowded now."
In a statement the supermarket said it was disappointed, adding: "Sainsbury's has consulted extensively with a whole range of individuals, groups and organisations in the community since the beginning of the year and we had made a significant number of changes to the planning application as a result of what we heard."