Charity fears Bradley Stoke MS centre grant at risk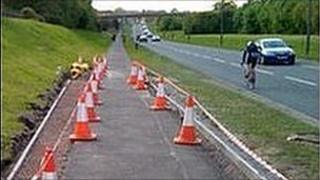 A charity is appealing against a planning ruling which it fears could lead to a loss of major funding for a new £1.15m MS therapy centre.
The Moonstone Appeal has been refused council permission for an access route to the site in Bradley Stoke, South Gloucestershire, delaying work.
The charity fears it could now lose more than £350,000 worth of grants because some of them are time specific.
The council said discussions were still on-going.
The charity is seeking access via Wheatfield Drive, because it would cost about £1m to have fibre optic cables removed from Bradley Stoke Way.
The refusal for permission for the side access followed residents' concerns that it would increase traffic near their homes.
Separate roles
Michael Gelder, from the charity, said: "We have a lot resting on this application.
"The local authority has overruled the advice of both their planning department and their legal department and that has left us in major jeopardy."
A council statement said: "The council has two separate roles in this matter, one as the local planning authority and one as landowner.
"As the appeal is with the planning inspectorate, it would be inappropriate for the council to comment further at this stage.
"The council, as landowner, remains committed to the provision of an MS Centre on part of the site and is involved in ongoing discussions with... the Moonstone Appeal."