Funeral held of Iron Acton murder victim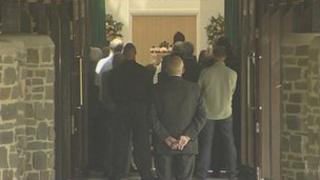 The funeral has taken place of a grandfather who was murdered in his home near Bristol.
Mourners packed the chapel at Westerleigh Crematorium to pay their respects to Barry Rubery, who was found dead in his cottage in Iron Acton.
The 68-year-old had been tied up and battered to death after returning from a night out with friends on 28 April.
Mr Rubery's son and daughter said their "devastation is beyond belief" and "every day is a struggle".
The statement released by Philip and Julie Rubery said: "Today is one of the most difficult days for all of the family. We simply cannot put into words how it feels to say goodbye to a much-loved dad and grandad.
'Brutally taken'
"To lose our father in this way is just unimaginable and our devastation is beyond belief. Every day is a struggle and our lives will never be the same again."
Mr Rubery was discovered in Crossing Cottage in Latteridge Road on the morning of 29 April.
Police are trying to trace two men seen in the the area of Crossing Cottage on the day Mr Rubery was killed.
Officers are also trying to trace a dark 4x4 pick-up vehicle seen outside his home the same evening.
A BBC Crimewatch appeal showed a reconstruction which resulted in about 40 calls.