Debate over cost of contaminated gardens on Bath quarry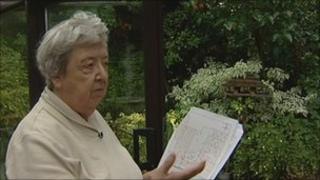 Home owners in Bath could face bills of thousands of pounds after contaminated soil was discovered on their land.
The 19 properties in the Newbridge area are on the site of a quarry believed to have been filled with waste - some of it toxic - more than a century ago.
Bath and North East Somerset Council is hoping to get government funding to pay for the decontamination.
But the council warned that when a polluter cannot be traced then the landowner would usually be responsible.
A spokesperson said: "In theory the original polluters, if they can be found, would bear responsibility for remedial works - but in this case, where the contaminants are the result of historic tipping, it is likely that those responsible for filling the quarry won't be traced, which normally leaves responsibility with the current owner."
'Unlikely risk'
The council is to decide next week whether to implement its cost recovery policy to ask the government to pay for remedial works.
The cost is not yet known but residents have been told it could run into tens of thousands of pounds.
Resident Mary Faulkner said: "It's ridiculous. I'm not paying. They should never have built housing here."
William Bloom, who has lived in his home for 33 years, said: "I grew almost everything from strawberries to potatoes, beans, and the whole family have eaten the food and all of us have been healthy."
The council said it was unlikely that there would be an immediate risk to people's health.
A council spokesperson said: "Bath and North East Somerset Council takes its statutory role to investigate any contaminated land seriously.
"As soon as concerns were raised about land in Newbridge, we set up a multi-agency project team to carry out investigations and a health risk assessment, and have made sure that all residents affected are kept fully informed."