Bristol City fans march over council stadium setback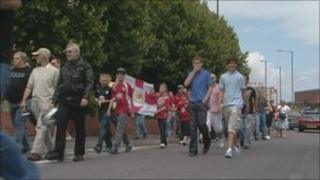 Bristol City fans have staged a protest against the decision by the council not to allow Sainsbury's to build on the club's current ground.
Hundreds of supporters - and some of the club's players - marched from the Ashton Gate ground to nearby Ashton Vale, where the club wants to build a 30,000-seater stadium.
The £92m stadium depends on Sainsbury's being able to buy land at Ashton Gate.
On Wednesday the city council rejected Sainsbury's application.
'Going to fight'
Last week's decision leaves the club with a £20m shortfall in the funding for a new stadium.
Colin Sexstone, chief executive of Bristol City, said: "I don't think that even at this moment we're absolutely clear why that was turned down.
"I think there's a lot of frustration felt in the council itself who have worked very closely with us on this and of course the World Cup.
"I know there's frustration there but of course planning is a separate business. Clearly we're going to fight this.
"We have to talk to our partners, Sainsbury's - but I'd be very surprised if we don't put in an appeal and put it in quickly."
Bristol City captain Louis Carey said: "It's something we've wanted for a long time in Bristol, for them to turn down Sainsbury's attempt to build here is disappointing for everybody."
Another Bristol City player Cole Skuse added: "The players are a little bit shocked because we were under the impression that it was all going through plain sailing and we're just a little bit shocked really. We can't believe that it's hit a bit of a snag."