Rail terminal for 'wine trains' opens in Bristol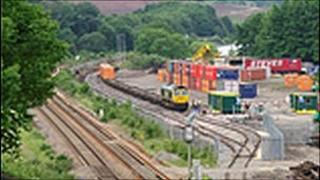 A rail freight terminal which will handle deliveries of 8.96m bottles of wine a year has reopened in Bristol.
The depot, which has been used as a car park in recent years, will mean 10,000 fewer lorries journeys on the road.
Seven "wine trains" will call at the South Liberty Lane depot in Ashton every week.
The short section of disused track was reinstated in a joint scheme by Network Rail and haulage company Freightliner.
The alcohol is destined for one of Europe's largest wine processing centres, in Avonmouth.
Peter Willey, Network Rail's senior freight manager, said: "Each freight train can take up to 60 lorries off the roads and shifting traffic from already congested roads to rail will bring greater future benefits."
Trans Ocean will be responsible for managing the movement of all wine imports to the centre, which is owned by Constellation Europe.
The old freight terminal was closed in 1990 because of a lack of demand for freight.
Work was carried out to renew the track, and existing signalling equipment was tested and recycled for use.
Mike Gallop, who oversaw the project for Network Rail, said it was a "relatively small investment and a huge benefit for the local economy, a huge benefit for Avonmouth and some really good green credentials".