Bristol City and Rovers condemn war memorial damage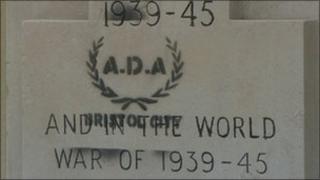 Graffiti has been sprayed onto gates of the Memorial stadium in Bristol.
Tags and slogans associated with Bristol City were found early on Thursday morning on the gates, which act as a war memorial for rugby players who lost their lives in World War I.
The Horfield stadium is used both by City's rivals Bristol Rovers and by Bristol Rugby.
Officials from both football clubs have condemned the attack and City fans are raising funds for a clean-up.
Kirsty Pugh, Bristol Rovers' press officer, said: "We were all very shocked and disgusted this morning.
"Graffiti of that style is bad enough but then to desecrate a war memorial, it oversteps the mark."
Colin Sexstone, chief executive of Bristol City football club, said: "I am sure all Bristol City fans will join me in condemning this senseless act of vandalism, which tarnishes the memory of those who laid their lives down for this country."
Fans of both clubs have used online forums to slam the graffiti and Bristol City Supporters Club have set up a fund to pay for it to be cleaned up.